Introduction:
TOR stands for The Onion Router which is used to browse the dark web anonymously. This browser helps to get connection with ".onion" urls or domains to access the hidden contents on dark webs. In Normal Browsers, we get the websites, dominated by ".com", ".net", ".in", ".org" suffix-added urls which are publicly accessible under the surface web and these sites are basically main DNS(Domain-Name-System) rooted under Wold-Wide-Web. As same as the dark web has some special types of websites(some illegal also) with ".onion" domains which are accessible only in TOR anonymous network. These ".onion" urls contain several types of contents where a few maybe legal to search but most of them are for illegal purposes.
TOR follows a random string of network of ".onion" suffix which indicates to the door of Dark Web. This TOR is used by the Professional Black Hat Hackers, mostly in case of their illegal activities. All the cyber crimes are done there randomly by the cyber attackers or cyber criminals. TOR has its deep anonymous network where a professional hacker can go with his all motives for illegal purposes and can access their goal anonymously. Normal Browsers are unable to access these ".onion" urls and the hidden data(s) of darkbecause it needs anonymous ".onion" connections to surf those Dark web contents which normal browsers actually have not to serve. Tor can be also used as normal browser but in reality it is used mostly in browsing the Dark web(Mostly for illegal purposes). The Normal browsers like Google Chrome, Mozilla Firefox or IE are unable to access this web, and here TOR works with its perfection. So, Tor is  the best option to browse the ".onion" contents as it has ".onion" engine to serve. But this situation has been changed after inventing of ".Onion.City" Search Engine. "Onion.City"  is the Search Engine for browsing the ".onion" urls & the most hidden contents of Dark Web from normal browser. "Onion.City" is used to search those ".onion" domains from our regular used browsers. The ".onion" urls are the links of anonymous sites which are hidden under the Dark web world and now here the "Onion.City" will bring those Dark Web sites i.e. (.)onion sites to your Chrome, IE, Mozilla Firefox etc easily.
ABOUT "Onion.City":
"Onion.City" was invented & first announced by Virgil Griffith who has gone ahead and brought  a normal search engine which can search the ".onion" domains on  Dark web and throw up results on your normal browser. It is powered by Tor2web proxy. "Onion.City" will help you to search all types of ".onion" domains in your normal browser without installing TOR. It will make you feeling the same like using the traditional search engines such as Google, Yahoo or Bing etc. It makes available all types of ".onion" urls on your Normal traditional browsers but the new feature is, your searching results will be shown with ".onion. city" suffix, not only with ".onion" suffix. So, now "Onion.City" Darknet search engine made it easy and effective for Internet users in order to search on the deep and dark web from our favorite, insecure web browser.
Let's see the difference between searching of wiki.onion by using both of these search engines individually..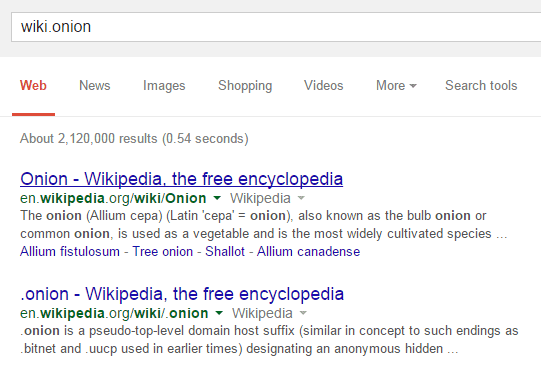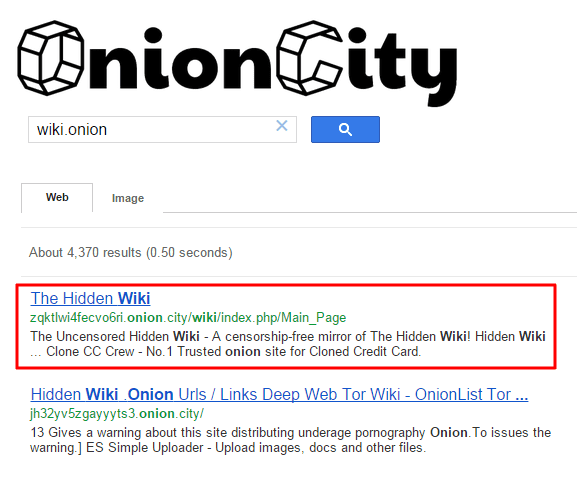 How it works?
Onion.City Darknet search engine is powered by 
Tor2web proxy
 which enables it to access deep into the anonymous Tor network, finds "
.onion
" sites by aggregating the hidden marketplaces and makes them available to the normal web browser with easiest navigation.  It makes an anonymous deep connection, in between from the anonymous Tor network to your regular used normal browser & makes the Darknet service easy-to-available to your single browser window. When you are searching any ".onion" domain or item from your normal browser using "Onion.City", it matches your search terms with the Dark web contents through the Tor network connections and then it will show you the result on your browser. This connection is anonymous and this whole process is done by the service of 
Tor2web proxy
 which enables the ".onion" items available to your browser window. The use of Onion.City is easy & as same as the other search engines like Google, Yahoo or Bing etc. Griffith has effectively broken the need for a Tor browser to search for ".onion" sites but the project is far from complete. As of now Onion.city has indexed approximately 670000 websites according to Google and Griffith creation is also very fast and comparable with Google.
You  can see in the above picture that what you are searching at "Onion.City" will show you the ".onion" results in addition with ".onion.city" as you are searching under this search engine. Once you click on the results thrown up by onion.city you will be shown the ".onion" domain as a ".city" sub domain containing full articles of that post. But the interesting fact is, Griffith's search engine may raise some eyebrows among the users of dark web as they have chosen the .onion domains because they prefer privacy and onion.city does exactly opposite of what they want, make dark web accessible to normal users using normal browsers.
Is "Onion.City" legal or illegal ? 
As we know that most of the ".onion" urls are illegal under Darknet as many of these urls are owned by the Black market sellers (selling of drugs, guns, ATM/Debit/Credit Card's numbers, Password selling, Animal selling etc.). So, before search any '.onion" domain, you have to be more careful as these result of your search terms will be shown with some kind of illegal information also. "Onion.City" is not illegal by its work but some or most of the searching result is, as the Darknet and its most of the contents are very much popular for its illegal services. Now the most important fact is, other browsers like Google Chrome, Mozilla Firefox, Netscape Navigator, Opera, Internet Explorer or Safari are able to trace you with your location and your browsing history whereas TOR is anonymous networking browser as it will make you hidden user, will neither trace your location nor your searching items/browsing history. So, there you will be safe to search ".onion" links by using TOR, but now here the problem is, though the "Onion.City" will show you the Darknet contents anonymously through TOR network, but those contents or results will be shown on your Normal browser which is actually able to trace your searching terms and your location!! i.e. it may be able to trace your illegal activities. Normal browsers will not give you the privacy like TOR. So that Tor is still now the most popular anonymous browser even after inventing of this search engine too!! Tor protects its users with its anonymous layers which the normal browsers have not, that's why normal browsers are unable to give you such like protective privacy. So, all of all you have to be firstly very careful to use the Onion.City with your own responsibility. I am not telling that this search engine is weak to protect but the fact is our traditional browsers are insecure in this case. Yes, there is a certain limit of your search, it will show the limit when you will enter the illegal part of Dark web through this search engine, but still in simple thought, Onion.City  may be considered as illegal engine to serve. Now here I will like to mention that all sites or urls under Dark web are not illegal, some are also permitted to visit legally(by default). The Frequently Asked Questions (FAQs) on Onion.City website even provides an email address to report content that may be illegal, though it's unclear exactly what steps they'll take. It totally works by using the Tor2web proxy and they are serving it with the TOR contents. So before using this search engine you have to also make your PC safe and secure by installing the antivirus software.
Conclusions: 
Onion.city isn't the first ever Deep/Dark Web search engine. The first search engine for online underground Black Markets, called 
Grams
, was launched that lets anyone to easily find illegal drugs and other contraband online in an easier way ever and it's pretty fast like Google Search Engine. Now "Onion.City is the second search engine to get a deep dive into the world of Darknet.
GRAMS — BLACK MARKET SEARCH ENGINE
The First Darknet Search Engine
Online users visit and run so-called hidden services on ".onion" domains or deep web, but the way to get around the ".onion" websites is to first have a Tor browser. However, Onion.City Darknet search engine made it easy and effective for Internet users in order to search on the deep web from our favorite, insecure web browser. Now the "Onion.City" search engine makes the common people able to search the Darknet contents easily. There is no privacy to search under this engine as it will show you the result on your normal browser. But be careful to use it before!! In order to use this engine, you may have need to install this search engine software tool to execute. On the whole, this makes Dark net available to all types of people by normal way of using but to use Dark web anonymously you have to work more hardly (by using TOR). Know about more to use this search engine before use.
Thanks for reading this article,
An article by: Rajdeep Das
If you like my article, then please press like button if you are WordPress member, and please follow this blogs to know about more such information. Also feel free to comment.
 Keep Visiting blogs.
© ® || All Copyrights are reserved and Registered ||
Powered by: Thetechlearner.com™